Pilot
Madison and Samuel were the first two people to arrive at the hotel room and are the first two characters to interact on screen together.
When Samuel first arrives at the hotel room, he notices Madison on the couch.
Samuel instantly gets a crush on Madison and he makes attempts to flirt with her.
Samuel calls Madison "sweet cheeks" and instantly wants to know more about her.
Madison calls Samuel "creepy".
Samuel shows off by repeatedly swinging his hips around to impress Madison.
Madison warns Samuel that he could get hurt by swinging his hips around.
Madison introduces Samuel to Babushka when Babushka first arrives in the hotel room.
Madison sings a high note to show off her singing ability after stating that she hopes to be a pop star. Samuel says that he "digs" pop stars after this.
Samuel wanted to taste Madison's cookies but she doesn't let him.
Samuel says that he pictures he and Madison having a future together; getting married and having kids. He places his arm around Madison's shoulder when he is saying this.
Madison repetitively refers Samuel as "the creepy guy" through-out the episode.
When Madison hurts her finger, Samuel offers to help pull the fish hook out but he didn't want to damage her "beautiful" finger.
Samuel offers to get Madison a bandage.
Samuel asks Madison if she was going to have a catchphraise.
School Sucks
Samuel sneaks up on Madison while she's on the phone.
When Madison hangs up the phone, she turns around and sees Samuel standing inches from her face. She also jumps.
Samuel shows off his tuxedo and asks Madison if it makes him look handsome. Madison sarcastically says he does.
Madison tells Samuel to hold her book bag while she tried to get her locker open.
They sit next to each other in the cafeteria and agree that their last class was boring.
Madison asks Samuel (and Babushka) if he could help put on a protest with her. He reluctantly agrees to this.
Samuel quits the protest, but appologises to Madison first.
Madison took the blame for Samuel (and Babushka).
Where's Babushka?
Madison and Samuel were one of the first people to wake up.
Madison tells Samuel that she doubts that Babushka would be falling off a bridge.
Madison creates a list of all the places that everyone thinks that Babushka is, putting it in the order of "least likely to the most likely". She put Samuel's idea as second last, above her's.
Madison and Samuel sit together in Matthew's car.
Madison looks jealous when Samuel mentions his crush on Beyonce. This could also be a reference to Pilot where Samuel says that he likes pop stars.
Madison and Samuel are the first to get out of Matthew's car and they stood on the bridge together.
Madison tells Samuel about her fear of heights.
Madison nominates Samuel to find Babushka in the ocean.
Madison says Samuel looks good in the swimming gear.
Samuel tells Madison that if he doesn't make it out alive, he loves her.
They were standing next to each other in the group hug.
Broken Pieces
Samuel trips on the stairs and breaks his arm because Madison didn't fix the stairs.
Madison wasn't as happy as Babushka was when Samuel wasn't at school.
Babushka asks Madison if she was guilty for making Samuel break his arm.
Samuel asks Madison if he could help him open his locker and she does.
After Madison left, Samuel asks Babushka if she thinks that Madison is guilty.
Samuel trips down the stairs again, caused by the damage that Madison left.
Matthew makes Madison be Samuel's slave while he was in a wheel chair.
After realising that she felt guilty, Madison appologises to Samuel.

This results to them sharing their first hug.

Madison unwillingly agrees to push Samuel to class, back home and up the stairs.
Madison once again appologises to Samuel at the dinner table.
Samuel asks if Madison could feed him but she says no.
Madison (and the others) can't stop laughing at the way Samuel decided to eat his food.
Matthew's Dream Come True
Madison was interested in resolving Samuel and Babushka's fight.
Samuel was the one to point out that whenever Madison gets really excited, she speaks really fast.
Samuel asks Madison if she could get his DS that Babushka chucked out the window.
Madison gives Samuel a flirtatious look as she heads out the door, saying no to Samuel's question.
Clown Heads Everywhere
Madison smacks Samuel's hand away when he tried to reach is hand into the popcorn.
Samuel squeezed to get a spot next to Madison on the couch.
They share popcorn together.
In the movie, there is a man comes and kisses his wife on the forehead. Samuel says that they were him and Madison in the future.

This gets him a slap from Madison.

Samuel hugs Madison in fear during the movie and when he spots the "clown heads".
Samuel defends himself and says that he knew that the clown heads were fake, showing off to Madison that he was brave.
Gifts for a Living
Madison calls Samuel "her guy" and asks him which outfit she should wear.
Madison buys a vase for Samuel and he puts flowers in it.
Samuel suggests to Babushka that she shouldn't tell Madison about the gift so that Madison's feelings don't get hurt.
It is revealed that Samuel definitely has a crush on Madison.
Samuel gives Madison a flirtatious "hey" after he thought that Madison was talking to him.
Madison blames Samuel for some of her anger.
Madison hugs Samuel after she forgives him.

Samuel reacts to this in an excited way.
Oh, Loretta
Samuel liked the way that Madison looked in the costume.
Madison seemed jealous when Samuel instantly fell for Loretta.
Madison (and Babushka) tries to convince Samuel about how bad Loretta is.
Samuel points out that Madison is jealous of him and Loretta.
Madison tells Babushka that they lost their best friend.
Again, Madison seemed jealous when Loretta took her seat at the dining table.
Madison states that she misses Samuel when he wasn't there at night.
Samuel breaks up with Loretta after realising that he liked Madison.
Madison seems happy when Samuel comes back.
After he told Madison that he dumped Loretta, Samuel says that he is available now.
Jumping into Chaos
Samuel offers Madison a spot on the plane next to him and she takes it.
Samuel suggests that they should snuggle close together to keep warm but Madison says no.
Samuel offers to hold Madison's hand while they were parachuting.
Samuel catches Madison mid-air before she hit the ground.
Samuel states that he misses Madison when he was lost.
They hugged when they finally found each other.
International Superstar
Samuel was interested in what Madison was wearing.
Madison watched Samuel's basketball practice and his performance.
Samuel smiles at Madison when she enters the gym.
Samuel promises Madison that she'd do well in her performance.
When Madison sings the line, "Let's slow dance" in her performance, Samuel turns to Babushka and says that Madison is singing that line to him.
Madison's jealousy appears when Loretta convinces Samuel to hate her performance by giving him a kiss on the cheek.
Madison storms out during her live performance because of what Samuel said.
Samuel apologizes to Madison the next day and says that Madison is the most talented person he knows.
Samuel tries to defend Madison when a bunch of people keep teasing her.
They hug each other when Madison forgives Samuel.
Rain, Go Away
Samuel asked Madison about the Headbands game.
Madison and Samuel were the first two people to guess their word in Headbands.
Madison tells Samuel to stand next to her while the others guess their words, and he does.
They look at each other when everyone is taking too long at guessing their word.
Madison naps on Samuel's shoulder after they were waiting for the game to end for two hours.
Samuel wakes Madison up.
They agree to end the game and tell everyone what their word was.
Samuel wanted to play Madison in the Ping-Pong game.
Madison and Samuel play after each other and they are both beaten by Babushka.
Crystal Comes to Town
It is assumed that Crystal got a crush on Samuel and Samuel was anxious about it.
Samuel asks Madison if they could talk about Crystal in private.
When Phil sees them enter the basement, he asks the pair if they're on a date.

Both Samuel and Phil were disappointed when Madison said they weren't.

Samuel mentions his crush on Madison to her and she is slightly disgusted.
Madison agrees to convince Crystal to leave for Samuel's sake.
They were standing next to each other in the group photo.
Diet Time
Madison was concerned when Samuel and Babushka were fighting.
Madison invented a TV schedule and made it Samuel's TV time first.
Madison reluctantly tells Samuel that he's "overweight".
Madison screams into a bullhorn to wake Samuel (and Babushka) up.
The two agree to go on the treadmills together.
Samuel was concerned when Madison fell off the treadmill.
They sit next to each other at the end. They also laugh together at Matthew's embarrassing DVD.
In Love
Madison told Samuel (and Babushka and Matthew) that she was going to the mall, however he didn't seem to care.
Samuel was openly jealous when Madison said that she met Carl.
Madison asked Samuel to help her organize for her date with Carl.
Madison told Samuel to play music whilst she walked down the stairs, showing off her outfit.
Samuel's jaw dropped open with shock when he saw what Madison was wearing for her date.
Samuel yelled, "Noooooo!" when Madison told Matthew that her date went fine.
Madison was curious as to why Samuel (and Babushka) were wearing Butler attire.
Samuel was shocked to find out that Carl was hosting a party and didn't invite Madison (who Carl thinks is Madeline).
Samuel excused himself from Carl's door entrance and danced with joy when he found out that Carl had a girlfriend and only thought of "Madeline" as a friend.
Samuel told Madison about Carl and how he was playing her the whole time. However, Madison doesn't believe him and said that he was just making up an excuse to get her and Carl to break-up.
Madison knew that Samuel had a crush on her.
Madison said that Samuel should've been supportive of her new relationship and got mad at him.
Samuel approached Madison in the park and told her to look through his binoculars (to witness Carl and his girlfriend).
Madison admitted to Samuel that he was right about Carl and she apologized to him.
Samuel attempted to ask Madison out, however Madison told him that she felt too young to date. She also said that she didn't want to think about love, relationships or crushes at that moment, and she just wanted to think about her friends who supported her. Madison then told Samuel that if he understood that, it would make him a good friend.
Samuel told Madison that he understood what he meant.
Madison thanked him for being a good friend and hugged him.
After they let go of the hug, Samuel admired Madison for a few seconds before Babushka interrupted them.
The Punishment You Get
Madison told Samuel (and Babushka) about how she was always beat in school elections by Mary Goldfield.
Madison seemed somewhat jealous when Loretta (Samuel's ex-girlfriend) told Samuel to vote for her.
Madison wanted to run for Student Counselor (a student elected to give other students advice) against Loretta; most likely to prove to Samuel that she was a lot more smarter than Loretta.
Madison asked Samuel where he got his muffin from, and was furious when she found out that Loretta gave it to him.
Madison was upset when she found out that Loretta gave Samuel $20 to vote for her.
Samuel attempted to apologize to Madison, however Madison told him that she was hoping that he was going to vote for her, and he was the reason that she was going to lose the election.
During Miss Martinez's speech to the school, Samuel tapped Madison on the shoulder and told her to go back stage to talk. However, Madison refused and told him to go away.
Samuel hit Madison on the head to get her attention. Madison grabbed her head and reluctantly went behind the curtain to talk to Samuel.
Samuel apologized to Madison, and Madison forgave him.
When Samuel went in for a hug with Madison, he turned her microphone on (which the server was connected by the waist). Samuel then made Madison tell him what she hoped to get out of the election (where Madison was unaware of the microphone being on; and her conversation with Samuel was being said over the loud speaker). Samuel then signaled to a student who was working the curtains and indirectly told him to pull back the curtains. The entire school heard what Madison had to say, and after she said that she was going to drop out of the election, Samuel asked her if she was sure about that decision. The entire school applauded for her.
After the campaign speeches, Madison thanks Samuel for helping her win the election by hugging and kissing him on the cheek.
Samuel was flattered by her kiss and immediately thought that Madison had a crush on him.
Samuel started acting clingy towards Madison, such as exhibiting such behavior:

Walking close to her on their way home from school.
Admiring Madison from a close distance when she was eating dinner.
Repetitively sending her flowers, chocolates, balloons and love letters at school.

Madison uncomfortably asked Samuel why he was acting that way, and Samuel told her that she was in love with him.
Madison got annoyed with Samuel and stormed off. Samuel was upset when he realized that he hurt her feelings.
Madison felt guilty about upsetting Samuel and went to Matthew for advice.
Samuel overheard Madison and Matthew's conversation, and once again apologizes to her.
Madison once again forgave him, and told him that they should wait for about 1 or 2 years before they could consider dating.
They hug.
After Madison leaves, Samuel is shocked when he realized that he had to wait for 1 or 2 years.
Dentist Dilemma
Samuel stated at the beginning of the episode that he wanted to find a jewelry store in the mall so that he can "buy a special something for a special someone". It is revealed through out the subplot that Samuel bought Madison a gold necklace with her name engraved with a ruby gemstone.
Madison commented that she thought that Samuel only bought meaningful things, however Samuel said that he would make an exception.
Samuel told the woman who worked at the jewelry store that he wanted to buy a necklace for a girl, and the woman assumed that it was for his girlfriend.
Samuel assured the woman that Madison was only a friend who happened to be a girl, however he felt like they shared something special and that she meant a lot to her.
Samuel called Matthew's cellphone and told him to pass the phone to Madison (this happened twice through-out the episode).
Samuel asked Madison if her name was spelt as "Madison" or Maddison".
Samuel called back an hour later and asked Madison if she preferred pink or red.
The cellphone reception glitched in the middle of their phone call and their phones started buffering. Samuel couldn't understand what color Madison, however he chose red anyway.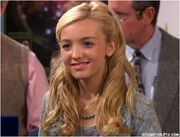 Samuel wanted to talk to Madison again, however Matthew told him that Madison and Babushka were already in the dentist surgery.
Madison was interested into what Samuel got up to.
Samuel told Madison that he got her a gift, and Madison assumed that it was a wedding ring.
Madison was shocked with delight when she saw the necklace and thanked Samuel for it in a hug.
Samuel put on Madison's necklace.
Bloopers
Note: This episode was a behind-the-scenes special and did not feature any of the actors in character (with the exception of a small clip show at the end of the episode).
Some of the bloopers that Peyton and Kyle had were during Mamuel scenes.
A few Mamuel scenes were shown during the clip show at the end of the episode, including when Madison and Samuel were talking at the end of In Love and when Madison kissed Samuel on the cheek in The Punishment You Get.
Lizard in The House
Samuel knew that Madison was scared of the lizard, so he went up stairs and got the lizard for her.
When Charles passed his lizard's leash to Samuel, Samuel gave it to Madison straight away.
Both of them agreed that being sent to juvi for "stealing" Charles' lizard was wrong and unnecessary.
They teamed up with Babushka to find the lizard.
Madison flirted her way into getting Samuel to go across the hall and asking Patricia about the lizard.
They both agreed to have fun with the lizard and they both cracked themselves up laughing.
They stood next to each other when they confronted Charles.
They (and Babushka) caused the floor to collapse when it was still wet, so they had to spend a few hours with the rest of the gang fixing it back up.
Not What You Were Hoping For
They were both in the same English class at the beginning of the episode and they were both taking an English exam.
The two of them exchanged a note between one another:

Samuel: Dear Madison, are you wearing any perfume today? Because you smell fine! Please write back. - Samuel
Madison: Dear Samuel, no, I am not wearing any perfume; and can you please stop writing me love letters, as I am in the middle of taking a very important English test!
Samuel: Dear Madison, whatever it is, you do smell fine!

They wrote back and fourth until Veronica turned them in, and Madison did not receive Samuel's last reply.
What Madison wrote also implied that Samuel sent her more notes earlier on, however the notes written above were the only ones that were shown on-screen.

When Samuel asked Veronica (who was sitting between them) to hand his note to Madison, Veronica told her that the note was from her "boyfriend".

She did the same when Madison wanted to pass the note back to Samuel. Veronica told Samuel that the note was from his "girlfriend".
Initially, Samuel wanted to hand the note back to Madison so he handed it off to Veronica, however Veronica ratted them out and Samuel ended up getting in trouble.

Their English teacher read out their notes to the entire class, which made the class crack up and made the two of them embarrassed.
Samuel defended Madison, saying that he started up the notes and Madison shouldn't have been to blame for it.
Madison told Babushka about Samuel's detention, and their conversation was cut short when Matthew interrupted them.
Both Madison and Samuel were invited to attend Matthew's conference.
They sat next to each other on the panel.
Samuel got openly jealous when Nathaniel asked the "hot blonde" (Madison) to talk on the microphone.
Samuel told Nathaniel that he'd known Madison a lot longer than he had, and told him that he was Madison's boyfriend while placing a hand around Madison's shoulder.
Samuel and Nathaniel fought over Madison whilst the rest of the conference started rioting with each other.
Madison was concerned when Nathaniel tackled Samuel into the podium.
Samuel told Madison that he believed Madison's disgusting behaviour for a second, and told her that she looked hot either way.
The Ultimate Assassin
Madison was curious about Samuel's Assassin history.
Both of them agreed to play the Assassin game.
Samuel almost mistook Madison for Matthew at school and was about to shoot her before Madison warned him not to.
Madison told Samuel that she thought that they agreed to keep the game on hold at school.
They shot a paintball at the same time at a confused and scared young man who kept running in front of their shots.
Samuel told Miss Martinez that Madison (and Babushka) had nothing to do with the paintball guns.
Samuel gave Madison (and Babushka) new guns when they got their guns confiscated.
Samuel was furious at Matthew when he found out that he eliminated Madison.
Samuel (and Matthew) used Madison as a human shield all weekend when Samuel and Matthew was competing in the game.
Madison was concerned for Samuel's future wellbeing if he kept playing the assassin game, and allowed him to see a flash-forward to 30 years into the future (2041).

Although it was Madison-driven, Samuel contributed to Madison's flash-forward by making the two of them married to each other. In the flash-forward, Samuel exclaimed to Madison, "Honey, I'm home!" and Madison came up to him and greeted him by allowing him to kiss her on the cheek.
Despite Madison's protests, she agreed to keep her and Samuel married in the flash-forward.
The flash-forward showed that Madison was still concerned about Samuel and Matthew's assassin game, showing that their game hasn't ended.
In the flash-forward, Madison gave Samuel yet another flash-forward (a flash-forward within the flash-forward) 30 years into the future (in 2071).
Madison was still concerned about Samuel's wellbeing and cried because they still didn't finish the assassin game. Matthew passed away before any one of them could win.

These flash-forwards; although fictitious and being a warning for Samuel's potential future, foreshadowed the real future where Madison and Samuel are married (as shown in the season 4 episode Madison, Samuel, Babushka, Matthew, Million Bucks Bill, Patricia, Spain and Phil of the Future).

Samuel told Madison that if he won the assassin game, Madison had to go out with him. Madison reluctantly agreed.
Samuel proudly told Madison that he won, and told her that she still had to go out with him.
Madison gave Samuel another flash-forward to 2071, where both of them were happy that the game ended when it did 60 years prior.
Timothy...Who?
They were in mid-conversation before being distracted by Timothy.
Samuel held Madison close to him when her science project exploded.
Samuel looked concerned by the mess that Madison made and he got foam on himself.
They went to Blue together after school, along with Babushka and Timothy.
Samuel sat directly across from Madison at the restaurant.
Both of them were on technological devices before Babushka told them about the restaurant's rule.
Both of them agreed that the smoothies at Blue were disgusting.
Samuel looked concerned when Madison ran around the restaurant looking for water.
Samuel looked jealous and defensive when Madison told him (and Babushka) that Timothy kissed her the previous night. He was also happy about the fact that he left.
Detention
Samuel was excited to show Madison his prank on the principal.
Samuel looked apologetic when he got detention the same day as their weekly Big Day Out trip.
The two of them exchanged stories about their worst moment with Ms Coward.
The two of them came up with plans to distract Ms Coward.
Madison attempted to help Samuel out of the class room. She had to hold onto his forearms whilst she attempted to pull him out of the window. However, both times they got caught and she had to leave Samuel in an awkward position.
Madison was determined in getting Samuel out of detention.
When Madison's final plan worked, they hugged each other in celebration.
Happy Valentine's Day
Samuel repetitively asked Madison to the dance through-out the episode, however Madison rejected him every time. However, she did not seem annoyed by Samuel's behaviour; she laughed it off.
Madison tried to convince Samuel to go to the dance with Loretta.
Samuel rejected Loretta because he told her he already had a date (Madison).
Madison was happy when Samuel had a date to the dance.
Samuel seemed jealous when Justin asked Madison to the dance.
They jumped up and down together when they all had dates to go with to the dance.
Samuel agreed that Madison looked "hot" in her dance outfit.
They stood next to each other in the group photos.
The two of them fell for Olivia's trap and got trapped in a net and flung over the edge of the hotel.
Samuel was continuously jealous about Madison's remarks towards Justin, and it seemed like Madison seemed jealous about Loretta being Samuel's date (although it was her idea).
Madison screamed when Samuel's cell phone slipped and she patted him on the back, telling him that the phone was in a better place.
They were pressed against each other in the net whilst they were being pulled up.
Samuel recited Loretta a letter that he initially wrote for Madison, which he read out to her but have to correct himself in almost every line, "Dear Mad-LORETTA! I am honoured that you decided to go out with me. You know that I loved you since the first day we met. With your sparkling gree-BROWN eyes and your beautiful blonde-BROWN hair, I know that we'll be together forever. I love you." Madison looked at him in a loving way after he read the letter out to Loretta.
Samuel decided to dump Loretta at the dance because he still had feelings for Madison and he wanted to dance with her instead.
Samuel asked Madison if she wanted to dance, however Madison told him that she didn't feel like dancing with him.